Babes-Bolyai University/Digital Media Specialization/Faculty of Political, Administrative and Communication Sciences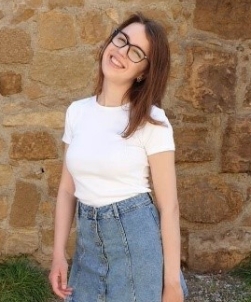 In the winter of 2019, I participated in my first internship at Banca Transilvania – Internship BT Journey. I really enjoyed getting to know the largest bank in Romania and South-Western Europe from the inside.
After a week of meeting employees from various departments and branches of the bank, I was assigned to the Retail Projects Development and Management department. Here we met Anca Daianu and Madalina Rogobete, who took care of us and guided us during the two weeks of internship. I learnt what each employee of the department mainly did.
I was inspired by the complexity and total lack of monotony in that division. Every day at BT was exciting because every day a new task or issue arises, which requires finding, planning and implementing solutions. From this point of view, being eager to help your colleagues is certainly very helpful.
"I had a pleasant experience and I acquired new knowledge as a result, I discovered skills that I did not even think I possessed, I met people worthy of admiration, who taught me plenty of useful things. Among strengths of the internship I can mention the open and friendly environment, the flexibility and the vast experience of the BT team, which increased my chances to acquire new knowledge and skills.
I learned a lot about: debit and credit cards (especially Star Card), ATMs and Recyclers, BT card data analysis, about risk cards and much more. I even attended a unique meeting in which Anca came up with ideas for implementing the new product. I was pleasantly surprised that each employee can come up with an idea and implement it, subject to prior consent of their superiors, of course. During this internship I learned many new things, such as that there are non-nominal cards, with the number of the car, for road transport companies or that it is possible to reimburse VAT for some payments made abroad with business cards, due to the partnership with Tax Back International.
Due to this internship experience, I understood that I would like to be part of the BT team. Certainly all the knowledge gained there will be useful to me regardless of the field I will choose in future.
I am grateful to the organizers for this exceptional opportunity. I would very much like to have the opportunity to return there.